I was aware as a boy that the Bible said something about "it is better to give than to receive," but I am not sure if I believed it. The idea that giving something away would somehow be better than receiving it was not a concept that I was able to get my brain around.
My parents were givers and taught my sister and me to give, but human nature and all its appetites attempt to override Bible-based teaching. The secret to discovering the joy of giving is that giving has to be practiced. After having traveled to more than a hundred countries and been a part of numerous mission projects, I am convinced that giving is the key to living a life of purpose and passion.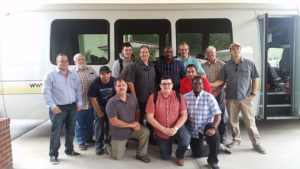 Giving, by its very nature loves company. A great experience is greater when shared. When you learn the joy of giving you want to get others involved in the fun. Some fifteen years ago, we started taking our men on building trips to third world countries. Our mission was to build churches and help our missionaries. We soon learned that we benefitted more than the recipients.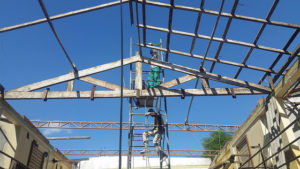 The group of guys from Palm Bay, Florida that paid their expenses and took a week off of work only to arrive in the sweltering heat of the Amazon basin never had so much fun. Putting a new roof on the central church in Manaus, Brazil was the mission, but the joy is in the journey. The challenges of language barriers, lack of tools and dehydration is lost on the camaraderie that develops between men united for a similar cause.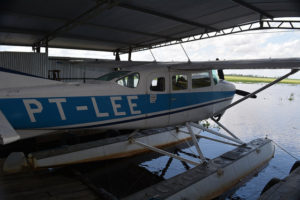 It didn't hurt that the work was peppered with anointed church services and fishing for peacock bass from the pontoon of a floatplane. Or sleeping in a hammock on the Amazon river with only the sound of howling monkeys and croaking frogs to serenade you to sleep. A place where your cell phone is only used as a coaster for your diet coke. Luxury has its limits. Nature reminds us that less is more and purpose is more powerful than a purse full of pennies.
Only two months earlier, our team of men with a revelation of what real living is all about had joined with another church from Bloomington, Minnesota and traveled to Santiago in the Dominican Republic to build a church. The first day they hauled buckets of concrete upstairs to finish pouring the walls. They trudged back to the room like an army of men walking out of a bomb shelter. I tried to cheer them up with steak dinners.
The next day as we laid out the pattern for the wooden trusses and began to construct them with glue and screws, we quickly discovered that the trusses were all stuck together and would have to be dissembled. The electricians could not make heads or tails with the beehive of wires that would be our source of power, and yet everything worked out as two groups of men from two different parts of the country built a church in a third world country and became life long friends.
Somehow in just three days, we forgot about all the unexpected setbacks and had completed building a church. I had brought my twin sons on this trip so they could learn the value of hard work and fall in love with missions. Other fathers had done the same. We concluded the trip with a free day of climbing waterfalls and cliff jumping, but the testimonies at the dedication service revealed that the best part of the journey were the smiles and tears of the faces of the young congregation that now had their very own church.
Santiago was preceded with five trips and dozens of men going to Guatemala City to help build a children's orphanage. Guatemala is a country that has three generations and hundreds of people living in the landfills and thousands of orphans living on the street. In a fertile valley of farmland in the shadow of a smoking volcano now lays a city of refuge. A first class place of hope and care. It is beautiful to behold and to think of the lives that are going to change, but I can't help but reflect on all the lives of grown men from America that have been changed forever by giving and going.
A growing church is a giving church. Sometimes we think we have to be bigger or more blessed before we can give, but the opposite is true. Giving precedes growing. A person who gives of his or her time, talent and treasure grow as a person. We become what God has designed us to be. A growing church is a going church. Many years ago Jesus instructed his followers to GO. This mandate was not just for the propagating of the gospel; it was the formula for abundant life.
https://pastordavidmyers.com/wp-content/uploads/2022/12/David-Myers-Logo-Black-300x165.png
0
0
Pastor David Myers
https://pastordavidmyers.com/wp-content/uploads/2022/12/David-Myers-Logo-Black-300x165.png
Pastor David Myers
2016-10-05 00:34:14
2022-12-21 02:01:37
The Joy of Giving