My summer with Antonin Scalia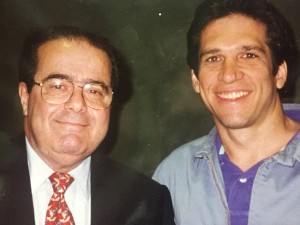 Attending law school and pursuing a Jurist doctorate has many challenges, but also many rewards. One high point that stands out in my mind occurred in the spring of 1998 when I received a letter in the mail from the University of San Diego.
I had been fortunate in the summer of 1997 to be accepted into a comparative law program in Oxford, England. In addition to living on the campus of Oxford and studying under state Supreme Court justices, the experience had broadened my perspective of American jurisprudence.
The letter from the school that had sponsored the Oxford program now extended an even greater opportunity to study under U.S. Supreme Court Justice Antonin Scalia at Trinity College in Dublin, Ireland. I was ecstatic, and then I considered the reality of taking another summer off to study abroad while employed full time as co-pastor of First Pentecostal Church.
I sought the advice of my father and staff. Everyone was very supportive of the opportunity and encouraged me to attend the program. I accepted and arrived in Dublin on a beautiful summer day not knowing what to expect. I soon found my small dormitory room and unpacked my belongings. The room faced an alley and was more akin to something you would find in an American prison.
The cramped space would soon become my sanctuary. A place of intense study and preparation. I felt out of place the next day as I reported to class, surrounded by younger, brighter minds. We all looked around and sized up each other as we waited for the professor. Antonin Scalia entered without fanfare. Dressed in a suit and fully prepared, but yet very relaxed and conversational. A study in contrasts!
He started the class by asking a question, and the questions never stopped for the next several weeks as we met each day with this man who was short of stature but yet had a huge reputation as a brilliant jurist. Our class was comprised of many Ivy League law students from the Northeast that were anxious to take on Scalia and show him how flawed he was in his analysis of the law.
He was not what many people were expecting. He was not bombastic or braggadocios as his famous dissents would suggest. He was humble in the discussion of his majority and minority opinions. He was thoughtful and respectful of each student as they presented counter-arguments.
He would win students over each day, not with intimidation but with logic, questions, and humor. All the while, not so concerned with converting us to his way of interpreting the Constitution but with an emphasis to remain consistent with our legal analysis.
It seemed like regardless of what side of the issue we were on in our classroom briefing of the cases, he would challenge the status quo. He would force us to take a look at it from a different angle. There were times when students, including myself, felt that we made a good point only to have him take it several layers deeper and force us to reconsider our premise. I had never been in an arena with someone this bright and this intellectually honest.
The banter in class that he allowed and encouraged intrigued me and consumed my every waking moment in preparation. I had never considered myself a serious student, but this was different. I was determined to be ready each day and to be prepared for the legal jousting that would ensue.
The younger students took advantage of the 714 pubs in the Temple Bar area that surrounded the school campus in downtown Dublin each night while I retreated to my closet dorm room to study half the night and be ready the next day for class. Inevitably, Justice Scalia would start the class by saying, "Mr. Myers, you brief the case for us; it's obvious you are the only one that reads it, or at least sober enough to remember it."
Justice Scalia told us how the Supreme Court worked behind the scenes. How the Justices decide who is going to write the majority and the minority decisions. How they hire their law clerks and how the judicial branch is the least powerful of the three branches of government in America. He said, "We don't control the guns or the butter (military or the money) we just have the power of the pen."
I'm not sure if any of us students agreed with him about the limited strength of the judicial branch, but we could all certainly agree with the fact that there is great power in the pen of U.S. Supreme Court justices. He took it one step further, as he was prone to do, and taught us an impromptu lesson on the power of dissent. He said, "You must state your convictions with authority even when you are not in the majority."
All of the moments and memories flooded back to my mind when I heard the news that he had passed. I wondered if he died of heartbreak because of how much he loved our country and worried about its future. My silent prayer for his life and family was interrupted with a smile that came to my face.
I remembered what he said as we were saying our goodbyes in Dublin. "Mr. Myers, Our families are from Sicily, and we both love to laugh, but your love for God supersedes your love for the law. Don't lose that, it's the only thing that matters in the end."
Thank you, Justice Scalia for not only your knowledge of the law but also for your understanding of what is important in life and your courage to live out those convictions even when it was not popular.
https://pastordavidmyers.com/wp-content/uploads/2022/12/David-Myers-Logo-Black-300x165.png
0
0
Pastor David Myers
https://pastordavidmyers.com/wp-content/uploads/2022/12/David-Myers-Logo-Black-300x165.png
Pastor David Myers
2016-02-23 21:59:43
2022-12-21 02:05:15
My summer with Antonin Scalia